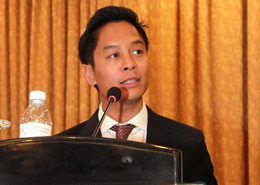 David Sok has 20 years of diverse experience in analyzing, optimizing, transforming and growing businesses, as well as fundraising.
David spent the first dozen years of his career as a capital markets professional with different roles in internal audit, new products development, M&A and electronic trading in the U.S. and France.
In 2011, David joined his family's rice mill in Cambodia and lead two successful rounds of fundraising with development banks and transitioned the company from start-up stage to established institutionalized leader, notably through the obtention of international certifications for quality management (ISO 9001, GMP/HACCP, Organic), environmental standards (ISO 14001) and social accountability (SA8000), as well as expanding export markets in Europe and Asia.
Returning to the U.S. in 2018, David joined the 360accel platform with his former boss and mentor, Tony Fareed.
David has a Bachelor of Arts in International Management from the Institut Supérieur de Gestion, in France and is a Certified Scrum Master, Project Management Professional, Lean Six Sigma Green Belt, has held NFA series 3 and FINRA series 7 and was a Certified Information Systems Auditor.